Ahhh fall. It's my favorite time of year. Crisp weather, pretty colors and the best excuse to buy those gorgeous fall shoes I have my eyes on right now.
However, we aren't billionaires or celebrities (nor do we have little elves custom-making shoes for us, at least not until Christmas). So we have to choose wisely when we're shoe shopping. Which is easier said than done, since it's soo hard to find something that works with your unique leg shape. Sure, those luxurious suede boots look good on the shelf, but you know the second you put them on whether or not they are right for you.
To make our fall shoe shopping a little bit easier, I spoke to Aly Scott, founder of StyleChic, who said "wedge short booties, anything with studs, neutral/nude anything, fringe boots, penny loafers or oxfords, plums and any shade of brown" are totally on trend for fall.
She gave me some expert dos and don'ts when it comes to finding the best shoes for your body type, and she even helped me target some of the most common problem areas.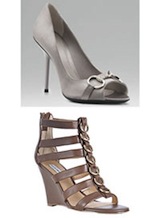 Small and petite:
If your legs are on the shorter and slimmer side, the most important thing to remember is height, height, height. This means "platforms, wedges and heels without straps," says Scott. That way, there won't be anything in the line of vision between your heel and the rest of your leg, resulting in smooth lines. The exception? Ankle-high gladiator sandals. They look really good on tiny ankles.
Also, pick a shoe with a rounded toe, as a very pointy one will make you look "witchy," says Scott. If you're more into being comfortable, you can wear ballerina flats — but only if you're wearing them with a dress that falls above the knee. Otherwise, your legs will look even shorter. Yikes.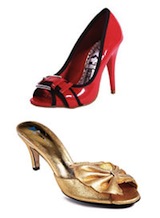 Short and thick:
I know how difficult it might be to find a flattering pair of shoes when your legs are a bit short. But turns out it's totally easy. "A simple heel is best," says Scott. Just be sure to choose one with a bright color or unique print, so you draw attention downwards.
Some other flattering choices are open-toed shoes with a solid heel and boots that end just below the knee, not mid-calf. Since your legs tend to be on the thicker side, stay away from gladiator flats or any other shoe style that wraps around your ankle. On that note, it's best to avoid flats as well, because they can make your legs look shorter and thicker.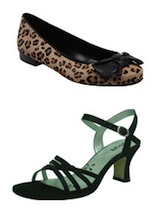 Tall and thin:
First of all, forget the myth that tall girls can't wear heels. Your long and slender legs would look gorgeous in a pair of killer stilettos. But if you're still looking for something else, "ballet flats work great because you already have the height," says Scott. Or if you want to play up your small calves, stretchy boots that fall mid-calf are perfect.
A pair of strappy sandals with an ankle strap will also give some edge to your feet, especially if you have thin ankles. On the other hand, try to avoid pointy shoes (whether they're a pair of heels or boots), because they will make you look too long. Also stay away from chunky heels or heavy platforms, because they will overwhelm your ankles.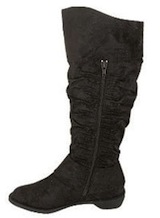 Tall and muscular:
I don't know who told you otherwise, but thick, athletic legs are so super sexy. Not to mention you probably have a killer butt too. To elongate the leg, choose a super high heel — "pointy, open-toed shoes and stilettos will make your legs look leaner," says Scott. Chunky wedge sandals are another great option, but go with a two or three inch heel to visually lift your leg.
It might be hard to wrestle your legs into a pair of calf-hugging boots, so look for a pair of soft suede boots with side zippers for easy access. It doesn't hurt to pick something with a bit of slouch, to hide any bulges you might have. Also, avoid rounded toe pumps, small squared heels and delicate styles like ballet flats or kitten heels because they can add weight to your legs and make them look heavier.
If you're looking for a universally flattering shoe:
One word: stilettos. No matter what the shape of your legs, "they always make you look taller, leaner and thinner- what more could you want!" says Scott.